Not much to say of late, but the Edmonton Police Service has brought me out of semi-retirement. It's nearly fall and school is back in session, so that means it's time for their annual ineffectual anti-jaywalking crackdown and hullabaloo.
Two years ago they conveniently misrepresented statistics to blame pedestrians for silly things like cars that backed over them; cars that left the road; and cars that ran stopsigns. Sadly the links to any related articles are long dead, but I saved a quote from the September 28, 2009 Edmonton Journal article
Pedestrians at fault in 59 per cent of injury accidents: EPS
41 per cent of drivers in injury accidents involving pedestrians were found to have failed to yield the right of way. That means in the other 59 per cent, the pedestrians were at fault...According to EPS statistics, 404 pedestrians were struck in the city in 2008. In 18 per cent of cases, pedestrians were crossing without right of way.
59% of pedestrians were at fault, but only 18% were crossing without the right of way? How was that supposed to work? Only the EPS knew, but it sure made a great headline. It was a real shining moment for the EPS' basic numeracy and logic skills. (for the record 18% was the correct number)
This year they're back with some graphic emotional blackmail:
From inews880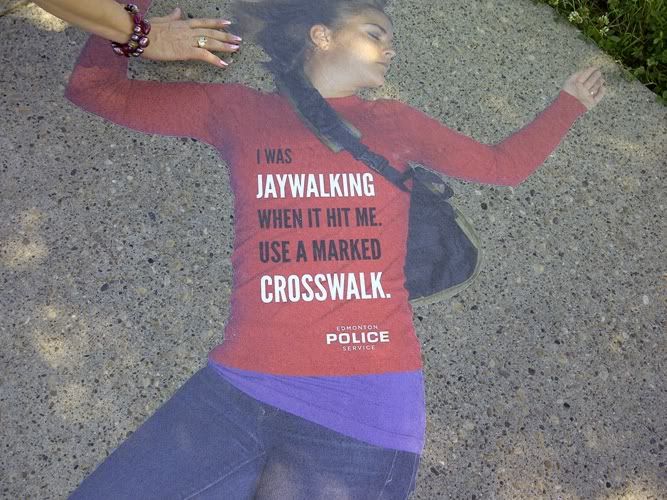 Acting Sergeant Jerrid Maze explains that decals depicting a jaywalker who had been hit are supposed to act as a warning. "It's supposed to look like a fourteen-to-fifteen-year-old girl," Maze explains. "She's dressed in blue jeans and a pink top, and she has a backpack on. It's supposed to look like she's been struck by a vehicle, so her eyes are closed and she'll be laying on the sidewalk."

These will be on sidewalks around the city for the next year, and the first location just happens to be at my long ago elementary school.
So what do the latest statistics say?
In Edmonton in 2010
pedestrians crossing without the right of way accounted for a whopping 14% of injuries or fatalities.
In Alberta in 2010
only 31% of drivers in pedestrian collisions were driving properly.
Those pesky pedestrians always being run over in marked crosswalks by law-breaking drivers. What's wrong with them?
Thinking about it though, emotionally manipulative decals are a great idea. The EPS is just using them wrong. Looking at the numbers, this is the issue we should be addressing:
copenhagenize.com
Photoshopping is fun, and anyone can play!
Updated to add: the EPS campaign got a mention on
copenhagenize.com